Emerging Europe Awards: GRAMPET Group – Grup Feroviar Roman, Regional Champion of the Year 2019
Emerging Europe Awards: GRAMPET Group – Grup Feroviar Roman, Regional Champion of the Year 2019
The international recognition coincides with the 20th anniversary of the Romanian-based first multinational
Bucharest, July 1, 2019 – GRAMPET Group – Grup Feroviar Roman was named Regional Champion of the Year at the Emerging Europe Awards at the end of last week, at a ceremony organized at the London headquarters of EBRD (European Bank for Reconstruction and Development).
This year, Emerging Europe Awards attracted nominees from 23 emerging countries – Albania, Armenia, Azerbaijan, Belarus, Bosnia & Herzegovina, Bulgaria, Croatia, the Czech Republic, Estonia, Georgia, Hungary, Kosovo, Latvia, Lithuania, Moldova, Montenegro, North Macedonia, Poland, Romania, Serbia, Slovakia, Slovenia, and Ukraine.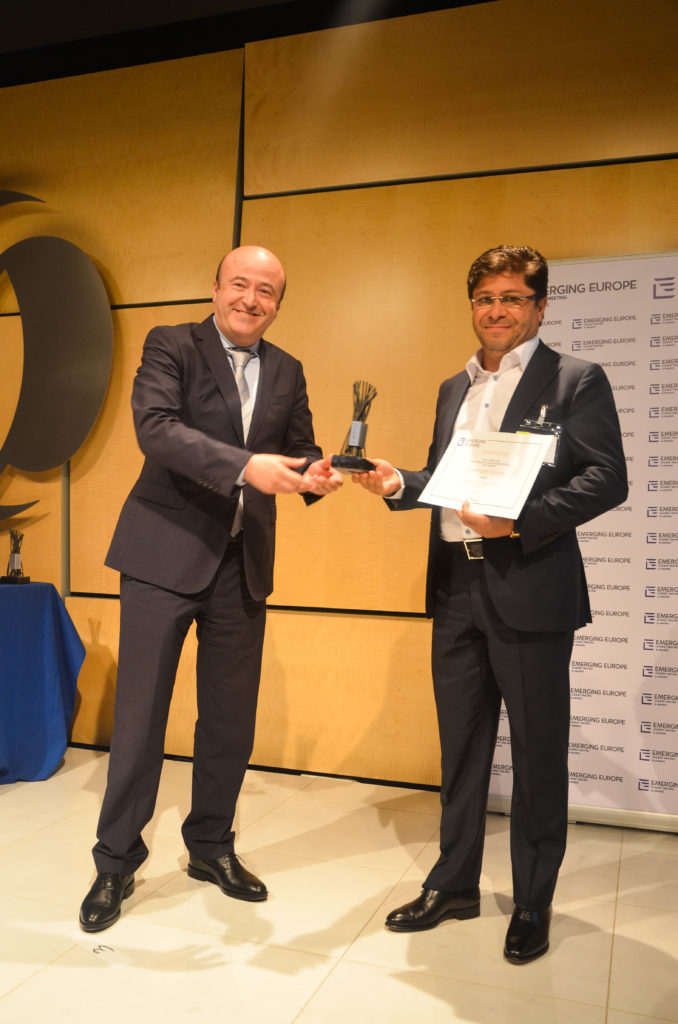 "I am proud to bring this award to Bucharest, on the 20th anniversary of the GRAMPET Group," president and founder Gruia Stoica said. "We have competed in the Regional Champion of the Year category against some of the strongest regional companies. I am convinced that the jury has had a difficult task."
The jury appointed by Emerging Europe has this year included internationally renowned professionals and industry-recognized experts, including Big4 consulting firms, investment funds, financial and research institutions, real estate and technology companies, professional organizations and chambers of trade, and government representatives.
"The final decision of the jury recognized the efforts by which we have built the first Romanian multinational and the largest private freight and logistics operator in Emerging Europe. Success is no accident. It comes with tenacity, hard work, learning from mistakes and getting back on your feet when you get knocked down. We have, including myself, experienced all of the above but this award obliges us to continue our journey moving forward. It is yet another proof that Romania has an enormous entrepreneurial potential and I hope that we have proven our children that it is possible."
GRAMPET Group is present in 10 European countries and considers expanding to seven other markets (map attached). It is the first European company to have joined the Middle Corridor – Trans Caspian International Transport Route, assuming a firm commitment to this strategic alliance that creates a new route between China and the European Union.
This year's Emerging Europe Awards have been supported, among others, by PwC – Strategic Partner, GE Power – Partner Landmark, and EBRD – Institutional Partner. The award ceremony was presented by Kasia Madera, BBC World News presenter. Samuel Burke, Business & Technology Correspondent – CNN Business, moderated the panel dedicated to fostering emerging Europe's innovative and sustainable growth through joint public-private efforts.
The event attracted high-profile participants from all Emerging Europe countries – representatives of the business environment, notably from the nominated companies, officials from international financial institutions, as well as officials from the political and diplomatic environment. It is worth mentioning the participation of personalities such as Kristalina Georgieva, World Bank CEO, and Alexis Tsipras, Prime Minister of Greece. Details and the winners list are available in the post-event release.

About Emerging Europe Awards
The Emerging Europe Leaders' Meeting & Awards is an initiative dedicated to the most dynamic companies of the emerging Europe region. The Awards categories take into account the key elements of Raising Awareness, Social Development and Economic Growth.
There are 16 awards categories in total, of which 12 are chosen by a jury of high-level international professionals who know the category in question very well. Two awards are chosen by the Emerging Europe Council and two are chosen using Emerging Europe's research.
This year's edition saw a total of 949 applications representing all 23 countries of emerging Europe. A number of 120 companies and organisations, spread across 12 categories, have been officially nominated for the Emerging Europe Awards.
The GRAMPET Group competed with nine other finalists in the Regional Champion of the Year category (open category to companies that have consolidated their operations and / or have expanded into emerging countries organically or through acquisitions).
The conference and Awards Gala took place in London, on June 27-28. The agenda included meetings and presentation sessions at the EBRD Headquarters, as well as a reception cocktail at the House of Commons, Palace of Westminster. Other details here.
About GRAMPET Group
Established almost 20 years ago, GRAMPET is today the largest private rail freight and logistics operator in Romania and Southeast Europe. Its 16-company structure is strategically designed to span the entire chain of rail transport solutions and products, thus offering clients an integrated experience at the highest level of competence: freight railway transport, building, repairs and upgrading of rolling stock, spare parts production, lease of rolling stock, freight transhipment, logistic services, as well as innovative IT solutions for railway operators.
With a declared objective to connect the Atlantic Ocean through the North Sea, to the Pacific, through the South China Sea, GRAMPET Group is one of the main drivers for the development of transport corridors that connect Europe to Asia.
Its flagship company Grup Feroviar Român (GFR) is one of the main rail freight operators in Romania and Southeast Europe. Currently, over 20% of traffic is international, with GFR offering complex logistic solutions to rail sector customers.
GFR is a member of all representative international organizations and has cooperation agreements with both state railway operators (BDZ Cargo, UZ, CFM, PKP Cargo, ZK, RCH, HZ Cargo, ZBIH) and private railway operators from Bulgaria, Hungary, Slovakia, the Czech Republic, Poland, Austria, and Germany.
The Group's companies Reva Simeria, Electroputere VFU Pascani, Reloc Craiova, and Electroputere VFU Craiova account for an important share of the Romanian rolling stock repairing market
In parallel, the group has an intense research and development activity, aimed at developing technical solutions that provide clients with a transparent and real-time experience. In 2017, GFR launched the E-CLIENT GFR portal, a first for Romania and Southeast Europe, which facilitates the management of the traditional carrier – customer-company relationship, from posting of orders to service invoicing, while going through essential stages such as ordering empty wagons, drafting transport contracts, providing unhindered access to process information, intelligent alert systems for decision-makers, and automated reporting.